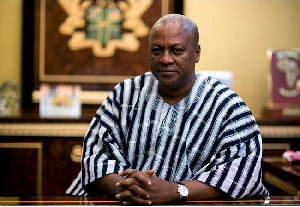 Former President John Dramani Mahama says the problems currently facing the National Democratic Congress (NDC) are from the top hierarchy and not the grassroots of the party.
Addressing party supporters at Larabanga in the Northern Region during their weekly branch meeting, the former President observed the NDC has a solid grassroots but same cannot be said of the top hierarchy.

"I want to make an observation. Our woes are not at the grassroots but at the top hierarchy because I see a solid grassroots support with members so enthusiastic" he stated.

He underscored the need for the party to resolve the internal wrangling among members at the top, noting failure to do so would affect the party in the 2020 general elections.

Mr. Mahama said efforts are being made by the party's council of elders to resolve all teething issues among the leadership, especially those at the top
Meanwhile, he has urged party supporters to have faith in the party and stay united in order to ensure victory in the 2020 general elections.

Enthused supporters chanted "2020 we go show Nana", amidst dancing.

President Mahama was accompanied by the former Chief of Staff Julius Debra, Member of Parliament for the Damongo Constituency Adam Mutawukil aka Galus as well as some national and Northern Regional executives of the National Democratic Congress.

The Larabanga branch had registered about 1,000 members as of January 23, 2018, which Mr. Mahama said was "positive and must be continued to ensure all sympathizers become bonified party party members".