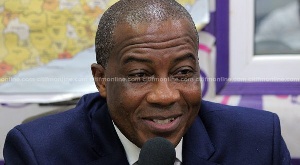 The National Lottery Authority (NLA) has stated that the accusation of conflict of interest levelled against its Director-General, Kofi Osei Ameyaw, in the award of a contract to Rams Kitchen, is baseless.
This follows recent reports that the Director-General might have played a role in the award of a contract to his mother-in-law's company – Rams Kitchen – in November 2017.

The contract, dated November 29, 2017, was for the provision of bags of rice, Olive Oil, tinned tomatoes, corned beef, mackerel and beverages for the NLA's staff.

DAILY GUIDE learnt that Rams Kitchen is a registered company that transacted business with NLA before Mr Osei-Ameyaw was appointed the boss of the entity.

Media reports had sought to suggest that there were a total of 11 contracts awarded to Mr Osei-Ameyaw's in-law, but in a statement to 'set the records straight,' the NLA indicated, "It is imperative to note that it is only one contract, not eleven contracts as speculated by the media," adding that one contract had eleven items to be purchased.

According to the statement, "Three companies bid for the contract. They are J&L Ventures, Target Enterprise and Rams Kitchen."
Proposals

It said J&L Ventures proposed GH¢619,970.00; Target Enterprise, GH¢613,748.00 and Rams Kitchen presented the lowest cost of GH¢583, 052.00.

Clarification

It clarified, "It is true that Rams Kitchen belongs to the mother-in-law of the CEO of NLA, but also note that Rams Kitchen was already known and registered as a supplier to NLA, even before the current CEO was appointed.

"There is no issue of conflict of interest here. Please, be reminded that institutions, companies and other government agencies, every year open nominations for suppliers to register with them. It is this same procedure or process that for the past two years, Rams Kitchen has been following at the NLA," the statement added.