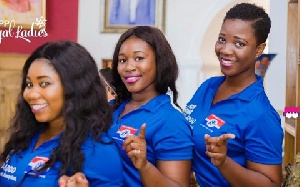 A former national coordinator at the National Disaster Management Organization (NADMO), Joseph Yamin, is alleging that some members of the ruling New Patriotic Party's (NPPs) Loyal Ladies- a volunteer group under the Youth Wing of the elephant family, have promised to join the unity walk being organised by the opposition National Democratic Congress (NDC,) in the Ashanti region tomorrow [Saturday].
Speaking about preparations made for the walk, Mr. Yamin said, residents in the region are disappointed in the NPP and have regretted voting for President Nana Addo Dankwa Akufo-Addo.

According to him, the Loyal Ladies confronted the NDC in the region, expressed their interest in the walk in order to send a signal to the ruling government that, they are will join the walk.

Some of the regions covered by the Unity Walk so far included the Brong Ahafo, Western, Greater Accra, Eastern, and Central regions. Mr. Joseph Yamin referred to the walk as ''the disappointed voters of Ashanti Walk.

This is because the participants are those who voted against Mahama and voting for Nana Addo. Residents in Kumasi are yearning to see Mahama and apologise for the wrong they have done against him.


The residents are complaining that they have sold their coloured televisions for black and white.

They feel the current administration has rejected them and in order to correct the wrong, they want to show the NPP that they are fed up.''



Former President John Dramani Mahama and other senior officials of the NDC are expected to participate in the walk tomorrow.