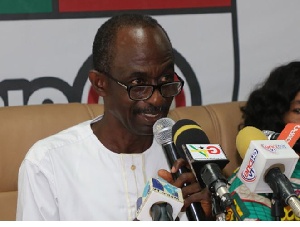 General Secretary of the opposition National Democratic Congress (NDC), Johnson Asiedu Nketia has described the Special Prosecutor, Martin Amidu as a waste of National resources.
He says the Special Prosecutor has failed to execute his duty by prosecuting anyone for financial malfeasance or corruption since his appointment as Special Prosecutor.

Speaking on Okay FM's 'Ade Akye Abia' programme, the NDC Scribe explained that the Special Prosecutor is just a failure and that he will not be able to prosecute anyone by the end of the year.

"I prophesied last year that Martin Amidu will not be able to send any person to court and he is living to my prophecy.

"Look at the corrupt practices in the current administration under the watch of the Akufo-Addo government," he stated, adding that Martin Amidu has once again failed to work, let alone prosecute anyone.

Asiedu Nketiah also added that he feels so sad at the trend of events and corruption under the watch of President Akufo-Addo.
"We expect the President to act quickly on the Oslo-Norwegian scandal which he says epitomizes corruption under the Akufo-Addo government," he stated.

Pussyfooting Approach To Fighting Corruption

The then Special Prosecutor nominee Martin Amidu received an overwhelming endorsement from Parliament's Appointments Committee and the general public.

President Nana Akufo-Addo swore in Martin Amidu as Ghana's first Special Prosecutor early this year.

The Nana Addo-led government has also allocated an office space to Mr Martin Amidu who has complained 'bitterly' that since his appointment in February 2018, he is unable to effectively deliver on his mandate because his office is under-resourced.
A two-storey building which appears ready for renovation and close to the International Press Center on the Gamel Abdul Nasser Avenue at Ridge will house Amidu and his team of legal minded persons to work.

In the 2019 budget presented to parliament by the Finance minister, the Special Prosecutor's Office has been allocated an amount of GH¢180 million from GoG with a commitment to provide additional resources during the course of 2019 to enable the Special Prosecutor's Office carry out its mandate.

In line with the government's promise to protect the public purse, President Akufo-Addo created the Office of the Special Prosecutor when he took office.

Still No Prosecution

However, almost a year after creation of the Office, no case has been sent to court by the Special Prosecutor who has on many occasions complained about the lack of resources and a law to regularise his duties.