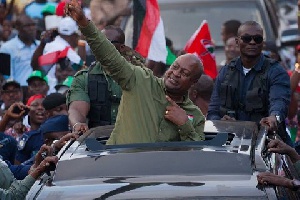 Former President John Dramani Mahama, has said the ineptitude of the Akufo-Addo administration at governing a little over a year in office makes the opposition National Democratic Congress (NDC)'s return to power in 2021 plain sailing.
According to him, the inefficiency of the government in managing the affairs of state has left the citizenry clamouring for a return of the NDC to put Ghana back on the right path of development.

The NDC under leadership of ex President Mahama woefully lost power to the New Patriotic Party (NPP), in the December 7, 2016 elections. The NDC lost key parliamentary seats to the NPP.

In the presidential polls, Nana Akufo-Addo beat the incumbent, then President John Mahama, with more than one million votes, polling more than 53% of total votes casts as against 44.4% for the President.

Several members of the NDC including, Nadowli-Kaleo MP, Alban Bagbin, Dr. Spio-Garbrah, former NHIA boss, Slyvester Mensah, Joshua Alabi, among others, have given indications they may contest the flagbearership position.
President Mahama who was addressing NDC supporters as part of the party's Diasporan Reorganisation Programme emphasized that the NDC with a strong foundation at all levels will be in pole position to win the 2020 elections with any of the potential flagbearers.

"We must make sure that our party is strong from the branch up to the national level and that we're working together. Indeed if the party is strong the possibility that we go with any flagbearer and win is much better, but if you have a weak foundation…the party is not strong, take the most charismatic person into the election you're likely to lose.

So let's build the foundation first, let's make sure we have a strong party, after that we can settle the issue of who leads us into the next election. But I must say we have a very good chance, not only because we're reorganizing the party but the NPP has shown that it is incompetent at governing, indeed substandard at governing. I always tell NDC that we should hold our heads high, let's not be ashamed of our records like we did nothing."