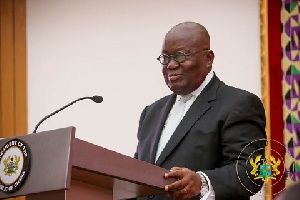 Fri, 14 Apr 2017 Source: ATV
A communication team member of the Progressive Peoples Party (PPP), Ekow Jones has served notice to President Nana Akufo-Addo to quickly deliver the numerous promises he made to Ghanaians during his first address to the nation and the ones captured in the budget statement read by the Finance Minister.
He cautioned the new administration to fulfil their promises and warned them they risk being in opposition in the near future if care isn't taken.

Speaking on ATV's Asem Yi Di Ka show, the PPP stalwart rubbished the content of the budget and highlighted the disappointment the NPP government have caused Ghanaians.

"NPP might be in opposition in the next elections if care if not taken", Ekow Jones warned.
The PPP member made reference to the budget which speaks more on reduction of taxes on goods within the shortest possible time. "As Ghanaians rejoiced about the budget, nothing has changed, some citizens are disappointed in the budget", he stated.

He continued that "the government should have built at least one dam and one factory by now for Ghanaians to know they are capable of fulfilling their promises".
Source: ATV