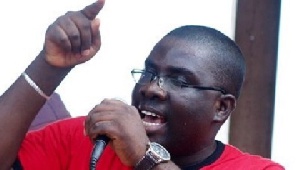 The National Organizer of the ruling New Patriotic Party(NPP) Sammy Awuku says the opposition National Democratic Congress (NDC) is frantically searching for a competitor in terms of which party superintends over corruption in order to share that unenviable 'corruption honours' with them.
According to him, the NPP is miles ahead of the NDC in the fight against corruption, while there was tacit approval of corruption under the erstwhile NDC government led by then-President Mahama.

Critics of the Akufo-Addo led-administration have bemoaned the increasing cases of corruption among public officials with some arguing that corruption under the current administration is the worst in the country's history.

They cite the latest corruption cases recorded at the Public Procurement Authority (PPA) where investigations revealed that Talent Discovery Limited (TDL), a company incorporated in June 2017, and owned by Chief Executive of the Authority, Adjenim Boateng Adjei, has won a number of government contracts through restrictive tendering.

Another is the case where the CEO of the National Youth Authority(NYA) Emmanuel Sin-Nyet Asigri, has been caught in the procurement malpractices web which has led to his outright dismissal.
Commenting on what some critics have described as a massive outbreak of corruption under the Akufo-Addo government on Asempa FM as monitored by Kasapafmonline.com, Sammy Awuku stated that most of the corruption allegations are not true as they are only a matter of procedural errors.

He cited the case under ex-President Mahama where a whopping $44million was used to buy Atlas Map under the watch of Minister Mahama Ayariga, adding that it got to a time where one didn't know which office of government to petition for corruption cases to be investigated and prosecuted.

"Today under President Akufo-Addo, there's the Office of the Special Prosecutor which corruption cases are being investigated and prosecuted. That is a marked departure from the NDC. Under the NDC, when an official is alleged to have engaged in corruption that person instead of being investigated is recalled back to the Flagstaff House."

He added: "I like the confidence of the NDC because they think they can fight us on the floor of propaganda to disgrace us but we'll not share the corruption honours with them. When there's an allegation of corruption, we'll publicly talk about it and allow due process of the law to work."