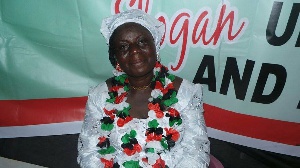 Hajia Joyce Zainab Mahama, National Women's Organiser of the National Democratic Congress (NDC), alleges that falsehood and deceit are the major ingredients that were used by the New Patriotic Party (NPP) to win December 7, 2016 polls.
"The NPP lied to Ghanaians and made fantastic unachievable promises and the citizenry believed them; but today they have been exposed and most Ghanaians are regretting voting for them", she said.

She indicated that the cost of living is quite high resulting in a major outcry among market women who were deceived into believing the current government was God-sent but have finally realized the NPP is just a conglomerate of fraudsters and liars.

Speaking on Accra-based Okay Fm on Wednesday, she disclosed that all the 191 lies peddled by the NPP in order to win power must be fulfilled damning critics who say it is too early to criticize the current government.
"They peddled over 191 lies under the guise of promises and we expect them to fulfill all those promises whether they like it or not. They have no excuse because when the late Professor Evans Atta Mills complained there were no resources to execute some promised projects, it was the same Nana Akufo-Addo who asked him to fix it. We are also asking him to fix it", she added.

Hajia Joyce Zainab Mahama said they expect Nana Addo among other things, to restore nurses and teacher trainee allowances, pay swindled customers of various microfinance companies in the Brong Ahafo region and make life heaven on earth for them.

"Just a month in office of former President John Dramani Mahama, Dr Mahamudu Bawumia started criticizing him and his government leveling all manner of allegations against him to make his administration unpopular. So they have no excuse at all not to deliver on their promises six months in office", she stressed