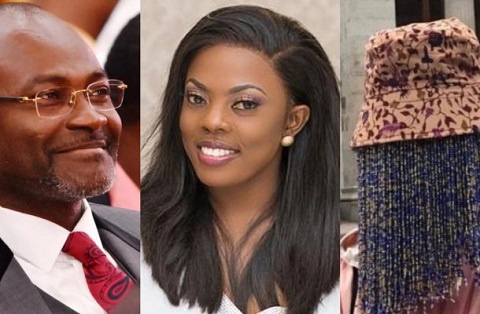 The trending issue in Ghana right now is the publication of the photos of a man purported to be award-winning investigative Anas Aremeyaw Anas.
The photos released by Assin Central MP, Kennedy Agyapong during a discussion on the morning show of his NET 2 TV on Wednesday.

Anas has done a good job of hiding his face all this while and it makes it difficult to verify if this is his true identity or just hoax.

While Anas' true identity has never been revealed in public, it is becoming more likely that Kennedy Agyapong may have got it right considering the reactions of some top media personalities in the country.

Award-winning journalist, Nana Aba Anamoah is one such person whose reaction seems to have given credence to Kennedy Agyapong's photos.

In a series of posts on Twitter not long after the pictures were shown on TV, Nana Aba who is known not to mince her words blasted NET 2 for such an unprofessional conduct.
She said, "what exactly is NET 2 seeking to achieve by putting Anas' pictures on their screen? My goodness! Ethics and professionalism have been thrown into the Korle lagoon. Shame on you, NET 2. Shame on you!"

An obviously angry Nana Aba described the production team as spineless and fearful human beings.

"Disgraceful, to say the least! The production team at Net 2 is made up of a bunch of spineless, bow to the master, praise singing and fearful human beings," she stated.



She went on further saying "our dear Ghana is bedevilled with so many problems. But a section of the media would rather focus on something as useless and petty as doing the OWNER's bidding. You splash Anas' pictures on your screen and then?? Headless lot"
Ending her tweets on the matter, Nana Aba declared "if you like put Anas' pictures from childhood till now on TV, the video will still come out. We will watch. All hail Anas!"

While Nana Aba's statements did not explicitly confirm the photos as being those of Anas, it gives enough fuel for speculation.



Coming from a top journalist like Nana Aba, it is not far-fetched to assume that she cross-checked with regards to the pictures before starting her outbursts.

And one social media user pointed it put to her that she should have used the expression "supposed pictures" in order not to give credibility to the pictures.