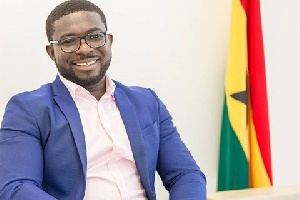 Barring any last-minute change, former GFA Presidential Candidate Nana Yaw Amponsah is expected to be named the new Chief Executive Officer of Asante Kotoko SC.
Sources in Kumasi tell 3news.com that the board of the Ghana Premier League club will meet with Amponsah next week to set the tone for an eventual announcement.

Should he be named, the Kotoko job will hand him a major selling tool to build his credibility and image in local football.

News on the appointment of the new CEO comes a few days after George Amoako was asked to exit the post as part of a management overhaul by the new board.

Earlier this week, former GFA Presidential candidate George Afriyie denied being interested in the job as was previously thought.

In a wave of new changes, the incoming CEO is expected to work closely with the board, which was constituted recently at the instance of the club's life patron Otumfuo Osei Tutu II.

Who is Nana Yaw Amponsah?
Nana Yaw Amponsah holds a Bachelor of Arts Degree in Psychology and Political Science from the University of Ghana, Legon. He also holds a Master's Degree in Sports Law and Practice from the Leicester DE Monort University, UK.

He is to pursue a PhD in Sports Leadership at the Concordia University in the United States of America (USA).

Amponsah became a Licensed FIFA Player Agent/Intermediary from 2008 to 2018, transferring over 100 players, 50 of which came from Ghana.

He is the Chairman of Division One Club Phar Rangers FC, a Director of Football for Phar Partnerships as well as the Founder and CEO of Cornny Drinks Limited.

A growing name in local football administration, he is an expert in the areas of Commercial Aspects of Sports, Sports and Ethics, Sports Governance, Representing the Athlete/Player and Sports Regulatory Regimes and Sports Rights, and ambush marketing.