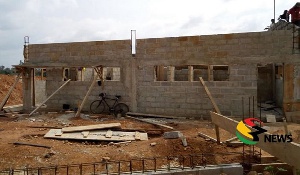 The consultant, Architect Akita, who worked on the New Edubiase Sports Stadium which has come under contention for untraceable source of funding, has revealed the project was to enhance the National Democratic Congress's chance in the 2016 general elections in the area.
"It was meant to enhance the chances of the NDC in the New Edubiase area", he reluctantly told Winston Amoah on 3FM's Morning show, Sunrise, on Friday.

Pushed to disclose his source of information, Architect Akita, said he would not comment any further.

Sports Minister Isaac Asiamah had said on the floor of Parliament Thursday, November 1, that his ministry cannot trace the source of funding for the project even though the construction company, Shakdeen Limited received 1.6 million from the then Sports Minister, Nii Lante Vanderpuye.

But Mr. Vanderpuye has denied making such payment and the contractor has also denied receiving such amount from the former minister.

The issue, according to the sports minister has been referred to the National Security for investigation regarding the source of funding.
Both the contractor and the consultant have admitted being invited by the National Security in relation to the matter.

According to Architect Akita, the National Security wanted to know the source of funding for the project which he said, "I didn't know the source of funding and that's exactly what I told them".




He explained government did not disclose the source of funding to him and that he only knew of the project as "a special initiative of the President [John Mahama] and that they had a certain budget".

Former President John Mahama cut sod for the construction of the 10,000-seater stadium back in 2016, but the project has since been left unattended, although the current government promised to complete the construction.
Architect Akita said there was a conscious effort to "get this thing done [the stadium] within the shortest possible time" admitting there was a political twist which he would not want to delve into that.

He however said the main objective of the project was not necessarily to enhance the chances of the NDC but "to complete it within the shortest possible".