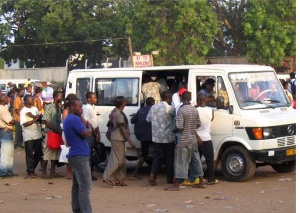 The Ghana Private Road Transport Union and the Ghana Road Transport Coordinating Council say they have not officially increased transportation fares, despite reports of some increment by some drivers.
Checks by 3FM at some lorry stations in Accra Friday showed between 10 and 15 percent increment in fares which has angered some passengers many of whom engaged in serious arguments with the drivers.

But some of the drivers who have increased their fares say the decision was necessitated by the rising cost of fuel prices at the pump.

National chairman of the Ghana Road Transport Coordinating Council (GRTCC), Ben Peprah, told 3FM Business that transport fares have not been increased.

He explained that a lot more variables are considered before the transport fares are increased and not just prices of fuel
"We were all in a meeting and agreed that we will not increase only on one variable. So I don't know why some drivers are going ahead to increase. We haven't and don't increase our fares, just because fuel prices are up," he stated.

General Secretary of the Ghana Private Road Transport Union (GPRTU), Issah Khalifa, said though he shares in the burden of the drivers, the board is still engaging government on the right increases.

"We are still engaging government and for now, we haven't increased any of our prices. Drivers' should desist from it. We will officially communicate any increases," he cleared.