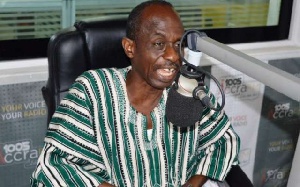 Picking of nomination forms for the Presidential aspirant race of the National Democratic Congress (NDC) will be closed by 5 pm on Tuesday, December 4, 2018.
According to the party's General Secretary, no Presidential aspirant will be given a second chance if he or she isn't able to file for nomination.

However some aspirants have already raised concerns over the filing fee pegged at GHC400,000.

Second Deputy Speaker of Parliament Alban Bagbin believes the filing fee is to give weight to allegations of "create, loot and share" against the NDC.

He has asked the National Executive Council (NEC) to reduce the filing fee to GHc 100,000 while the amount for picking forms which is also the sum of GHc 2,000 is cut down to GHc 5,000 for the aspirants, for which he is included.

Another aspirant, Stephen Atubiga has lambasted the party leadership for refusing to reduce the amount saying "money shouldn't lead us, the party is paramount. I have served this party from 1992 up to date. My family has sacrificed for this party. The foundation of this party is about the poor and marginalized. Jerry John Rawlings didn't start this party on the premise of making money but I can tell you that, it new king new law".
He is also quoted to have stated emphatically that the fee is more than how much he paid to marry his wife.

" . . when the fees for wanting to participate in any election is higher than the cost of how much you paid or spent in marrying your loved one (wife), it becomes problematic, 'moneyracy' election," he reportedly posted on Facebook.

Responding to the claims by the aspirants with dissenting views, the NDC General Secretary in an interview with Kwami Sefa Kayi on Peace FM's 'Kokrokoo' says the decision to close nomination today won't change and that he expects the aspirants to cut their coat according to their cloth.

According to him, the Presidential race of the party is not for the less 'financially endowed'.

" . . If you're going to buy an elephant, you use money for an elephant. So, you don't use money that buys 'adowa' to buy a horse," he said.