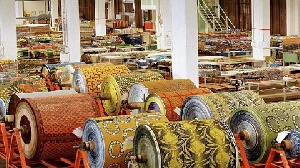 The management of Akosombo Textile Limited (ATL) has denied publications that some 200 staff have been sacked.
According to ATL, the publication is "inaccurate" and should be discarded.

The company has assured its employees, clients, customers, suppliers and the general public that it is still in operation.

"Our research and product development team are currently working on new brands and products intended to be launched in November for the Christmas Season," a statement from ATL said.

Below is ATL's full statement:

NO EMPLOYEE OF AKOSOMBO TEXTILES LIMITED (ATL) LAID OFF
It has come to the notice of the management of Akosombo Textiles Limited (ATL) that a series of inaccurate stories have been making waves on some media platforms over the past few days.

Management would, therefore, like to inform its distinguished customers, the media, and the general public that it has not laid off 200 employees as reported and has no plans to lay off its workers. Rather, the company is in the process of increasing our production activities from 2 shifts to 3 shifts, which will require us to employ more people in the near future.

It is also untrue and misleading that 600 workers of ATL have been sent home due to lack of raw materials. Our organisation like any other that utilises machinery, has scheduled times for production and maintenance. Our downtimes ought not to be misreported as signs of layoff.

As stated by his Excellency the Vice-President Dr. Mahamudu Bawumia during his key note address at the opening ceremony of the Ghana Industrial Summit and Exhibition 2018 at AICC on Tuesday, 18 September 2018, ATL will be producing the fabric for uniforms of the 100,000 graduates under the Nation Builders Corps (NABCO), as part of Government's industrialisation drive and to revive the textile industry. This in addition to other contracts will boost our business.

In addition, the Ministry of Trade and Industry in collaboration with the textile manufacturers and traders has planned a roadmap, aimed at reviving the local textile industry and promoting made-in Ghana fabrics. This includes among other things the implementation of the Tax Stamp to curb smuggling and to protect intellectual property rights of manufacturers in Ghana. It is worthy to note that as part of government policy to boost the textiles industry, ATL was a proud recipient of a government stimulus package in August 2018 to support the company's operations. The injection has assisted the organization to complete a number of exercises including clearing of salary arrears which is scheduled to be completed by the end of October.
Finally, we would like to assure our hardworking Employees, Clients, Customers, Suppliers and the General public that we are still in operation, therefore all such inaccurate stories should be disregarded. Our research and product development team are currently working on new brands and products intended to be launched in November for the Christmas Season. ATL - whatever the occasion - whenever people come together - you will find ATL "bringing fabrics to life"!

SIGNED

MANAGEMENT OF ATL