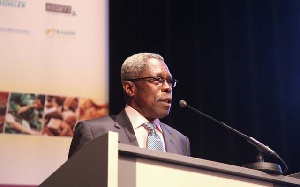 Ghana's former Ambassador to the Netherlands, Dr. Tony Aidoo has admitted that Vice President Dr. Mahamudu Bawumia was a thorn in the flesh of the National Democratic Congress in the run-up to 2016 election.
According to the former Ambassador, the National Democratic Congress, NDC, could not get a match within the party to counter the economic analysis of the then Vice presidential candidate.

"What I missed was the inability of the NDC communication team to bring out the facts so as to challenge the comparative analysis that Dr Bawumia was making," he noted.

"Dr Bawumia was the Achilles' heel of the NDC. Not only for the 2016 elections but he started way back in 2012," he added.
Vice President Dr. Mahamudu Bawumia, was a bone to contend with within the rank and file of the NDC in the lead-up to the 2016 General Elections.

His numerous public lecture series on the state of economy was targeted at punching holes into inefficiency of the Mahama led administration.

Then vice president Paa Kwesi Amissah Arthur was expected to respond to many economic flaws alleged by Dr. Bawumia but he failed to deliver as expected.