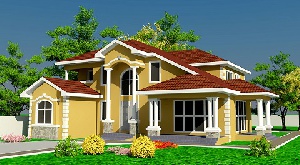 Tue, 26 Sep 2017 Source: Akwasi Nimo
Nominations are about to close for the Ghana Property Awards 2017 Northern Sector for real estate developers, construction companies, service providers and suppliers in the Northern Sector of Ghana, comprising the Ashanti Region, Brong Ahafo, Upper East and the Upper West Regions.
The bi-annual event is scheduled for 27th of October 2017 at the Golden Bean Hotel, Kumasi.

The award is aimed at recognising and rewarding excellence as well as projecting and promoting the northern sector real estate market and its allied businesses to create opportunities for investors.

The event will not only provide opportunities for the real estate market but also put a spotlight on the Northern Sector of Ghana and propel speedy infrastructural decentralisation for rapid development.

The event is organised by Property Express Magazine in partnership with GH Bank and the Ministry of Housing with the theme: "Heightening Developmental Prospects Through Skills and Competence."

According to the Executive Director for the Awards, Ms. Irene Agyenkwa, "These are exciting times for Ghana; it is a time where the country is emerging as a viable market for investment opportunities. The Northern sector of Ghana is ready and ripe."

The awards ceremony is an opportunity for property and Real Estate companies to pitch their products to potential investors and will serve as a platform for networking among investors through competition.
Among other things, the event seeks to promote confidence in the Northern Sector Real Estate industry and to safeguard and strengthen interests of stakeholders.

Registered companies and businesses have until 30th September 2017 to complete all necessary processes on the registration mandate. All paper work relating to the awards nomination must be submitted to the offices of Ghana Home Loans, now GHL Bank at Ahodwo–adjacent True Vine Hotel Kumasi. A short distance from the Ahodwo round about.

Below are the categories:

SECTION A

Best Developer NS 2017 – Lower Income

Best Developer NS 2017 - Exclusive Property
Best Private Home NS 2017

SECTION B

Inputs Supplier NS 2017 – Tiles & Sanitary Ware

Inputs Supplier NS 2017 - Blocks & Concrete Products

Inputs Supplier NS 2017 – Cement & Iron Rods

Best Glazing Company NS 2017
Manufacturing Company NS 2017 – Roofing Products

Manufacturing Company NS 2017 – Furniture Design

Manufacturing Company NS 2017 - Building Products -Clay

SECTION C

Best Mortgage Provider NS 2017

Best Community Watchdog Group NS 2017
Best Street NS 2017

Best Landlord 2017 NS
Source: Akwasi Nimo