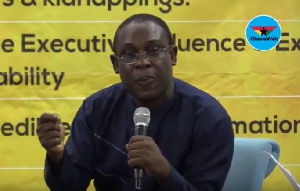 The Vice-President of policy think tank Imani Africa, Mr Kofi Bentil, has expressed disappointment with the work of the Special Prosecutor, Mr Martin Amidu and his office in the fight against graft in the country.
President Nana Addo Dankwa Akufo-Addo nominated Mr Amidu as the Special Prosecutor in January 2018. He was subsequently approved by the parliament of Ghana after he had been vetted and later sworn in on 28 February 2018.

Nana Akufo-Addo's choice for special prosecutor received an overwhelming acceptance by the majority of Ghanaians.

Mr Amidu was charged by the president to discharge his duties vigorously, with courage, without fear or favour, ill-will or malice, in accordance with the rule of law.

The office of special prosecutor was set up to fight relentlessly, and help eliminate corruption in the nation's public life, but one year on, the OSP has not made any prosecutions although it has been reported that Mr Amidu and his team are investigating some ex-government appointees as well as current appointees who may have abused their offices for personal gain.
Expressing his opinion about the work of Mr Amidu and his office on the maiden edition of Straight Talk on Class91.3FM on Thursday, 16 May 2019, Mr Bentil said Mr Amidu has so far performed poorly.

He told show host Felicity Naana Nelson that: "I'm disappointed in the work of the office of the special prosecutor. I think we are getting a host of excuses and it's not acceptable that they've not performed as we all expected. They generally have disappointed most people and there's a lot of excuses on why they've performed poorly…"

Asked if Mr Amidu should resign, Mr Bentil said: "I'm not too sure".