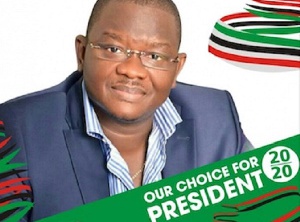 A flag bearer-hopeful of the National Democratic Congress (NDC), Sylvester Mensah, has officially written to the leadership of the party to announce his intention to run for president on the NDC's ticket.
In a letter to the National Executive Committee, the former Chief Executive Officer of the National Health Insurance Authority (NHIA), said: "I am pleased to thank you and the entire National Executive Committee of the party for officially declaring campaign activities, towards the party's presidential primaries, open.

"Having engaged in a nation-wide consultation on the future leadership of our dear party, I am able to confirm that I would be contesting for the vacant position of flag bearer for our dear party, the National Democratic Congress (NDC).

"It is my conviction that this communication satisfies the initial requirement of notification of intent to the party."

The NDC has set 7 December 2018 for its presidential primaries ahead of the 2020 polls.

This was announced by General Secretary Johnson Aseidu Nketia at a press conference in Accra on Thursday, 2 August 2018.
Mr Nketia, who said the date is in line with the party's constitution, explained that: "We have taken note of our constitutional requirement to choose our flag bearer 24 months before the next elections and the constitution, not having been amended yet, we can safely calculate our timelines from 7th December 2020, so that will bring us back to 7th of December 2018 for a choice to be made on who leads our party into the next general elections.

"Ordinarily, we would have concluded all the internal elections before opening the space for campaigning and declaration of intentions, but we realise that if we are to wait till we finish our elections by September, the time will be short for some aspirants, so on behalf of the national executive committee and on my own behalf as the Chief Executive of NDC, I wish to declare the campaign period for our presidential primaries officially opened with immediate effect."

Mr Nketia, has directed all hopefuls to first inform the party of their intention to contest before campaigning.

He also warned the would-be aspirants to be wary of the comments they pass during the campaign and to be modest.