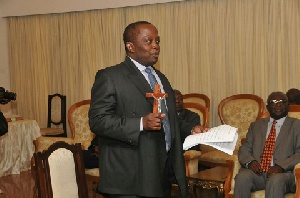 The Ministry of Finance and Economic Planning headed by President Akufo-Addo's cousin, Ken Ofori-Atta; Ignatius Baffour Awuah, Minister for Employment and Labour, Otiko Afisah Djabah, Minister for Women, Children and Social Protection among many others, cannot account for an amount of 892 million Ghana cedis according to the 2017 report of the Auditor-General into the ministries', departments' and agencies' accounts.
MyNewsGH.com has put names to the irregularities contained in the Auditor-General's report to identify and make public the names of the people who supervise or head the alleged irregularity from the highest level to the lowest.

According to the Auditor-General, the Finance Ministry headed by Ken Ofori-Atta is the worst culprit in its assessment of the public accounts of Ministries, Departments and Agencies (MDAs) for the financial year ended December 31, 2017.

The total cost of the financial irregularities to the state uncovered by the Auditor-General amounted to over GH¢892 million.

The breakdown is: tax irregularities GH¢655 million; cash irregularities GH¢190 million; stores/procurement irregularities GH¢41 million; payroll irregularities GH¢1.7 million; outstanding loans/advances GH¢2.6 million ; and rent irregularities GH¢195 million.
Other Ministries headed by various ministers were also fingered in one form of irregularity or the other as monies could not be traced by the Auditor-General.

The Ministry of Finance and Economic Planning recorded the highest irregularities, an figure of GH¢697 million. The Ministry of Employment and Labour Relations headed by Ignatius Baffuor Awuah came second in the dishonourable league of 'finanical indiscipline', blowing GH¢l35 million.

The Ministry of Gender, Children and Social Protection headed by Otiko Afisah Djabah also blew GH¢25 million (GH¢25,561,177) as the third highest culprit exposed by the Auditor General.

The Health Ministry head by Kwaku Agyemang Manu accounted for the fourth highest irregularities of GH¢21 million. Others include the Ambrose Dery, Interior Ministry GH¢2.8 million, Ursula Owusu-Ekuful, Communication Ministry, GH¢2.4 million, Alan Kyeremteng Trade and lndustry ministry-GH¢1.1 million; Alima Mahama, Local Government and Rural Development Ministry – GH¢1.2 million, Dr Akoto of the Ministry of Agriculture, GH¢1.7 million, while Dr Matthew Poku Prempeh, Education Ministry GH¢743,721.
Chieftaincy Ministry GH¢ 142,916

Fisheries Ministry – GH¢54,747

Defence ministry – GH¢39,099

Lands and Natural Resources – GH¢96,006
Ministry of House and Housing – GH¢16,887

Roads and Highways – GH¢395,773

Ministry of Justice and Attorney-General's Department – GH¢6,371

Ministry of Sanitation and Water Resources – GH¢65,124
Information Ministry – GH¢16,366

Judicial Service – GH¢902,107

Office of Government Machinery GH¢107,642.

The Auditor-General, Daniel Yaw Domelevo, has vowed to investigate these further and, if possible, hold the officials accountable by way of disallowing the items of expenditure and surcharge.