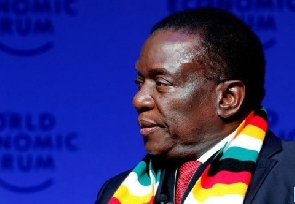 Zimbabweans are protesting after the chief justice invited a Ugandan judge to train judges on anti-corruption.
The news was not received well by Zimbabweans online who have said that Uganda was not the best country to learn from

ReportReport this social embed, make a complaint "Please stop wasting people's resources. Do we actually need the assistance of Uganda to eradicate corruption in Zimbabwe?" Leonard Koni wrote.

"Uganda, anti-corruption.... How did you manage to put the two words in the same sentence NICK? Look at the countries you looking at for advice and help," TB Mandlazi wrote.

"Uganda is not a good example of countries fighting corruption Maybe Rwanda, Singapore, Netherlands, Malaysia etc not these Museveni chaps. We're very far from fully launching the fight against corruption," Takudzwa Munangwa wrote.

"But why Uganda why not Rwanda or Kenya or South Africa," Nelson Tuwadya wondered.

"Africa's Least Corrupt Countries 1. Seychelles 2. Botswana 3. Cape Verde 4. Rwanda 5. Mauritius 6. Sao Tome and Principe 7. Namibia 8. Senegal. Source: Transparency International Corruption Perception Index," Tarrysnun wrote.
Zimbabwe's Chief Justice Luke Malaba told journalists that Justice Lawrence Gidudu, who heads Uganda's anti-corruption court, will conduct a week-long training course in Zimbabwe's capital, Harare.

Justice Malaba said Zimbabwe has a lot to learn from Uganda that has prosecuted and jailed corrupt people for years.

Uganda was ranked better that Zimbabwe in Transparency International's 2019 corruption perception index.

Uganda was number 137 out of 180 countries while Zimbabwe was number 158. But Zimbabwe's neighbouring countries - Botswana, Namibia and South Africa - were ranked better than Uganda by far.


"Govt has invited a top-notch Ugandan Anti-Corruption Court judge to train Zimbabwe's Judiciary, ahead of the establishment of anti-corruption courts. The National Prosecuting Authority (NPA), members of ZACC and members of ZRP will all be trained"https://t.co/jnxHGj4YPD

— Nick Mangwana (@nickmangwana) January 27, 2020