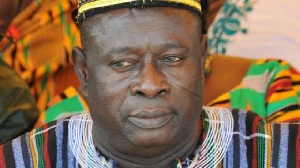 Hon. Cletus Apule Avoka, Former Member of Parliament (MP) for the Zebilla Constituency has defended his decision to seek another term in Parliament after serving for 20 years.
The former Majority Leader and one time Interior Minister say claims that he stayed in office for too long and for that matter should not seek another term are baseless and not enough reason to prevent him from putting himself up for election as a parliamentary candidate of the National Democratic Congress in his constituency.

Mr Avoka's return after losing out of an election bid is the second and similar to his return in 2008 after he failed to win in the 2004 parliamentary elections.

Though his return has sparked some shocks amongst political watchers, voters and members of his party in the constituency and region at large, the onetime adviser to former President John Evans Atta Meals suggested he is unfazed by criticisms over his return.

In an interview on The PM Show on Bolgatanga based Yem Radio monitored by MyNewsGh.com, Hon. Cletus Avoka said he is still physically strong and mentally alert to serve an MP and has the capacity to lead development in the Zebilla constituency.

"Politics is influence and nothing else. It is not enough to wear a big smock and go and sit at the back as a backbencher. You need to have an influence. As a former Majority leader, if I go back to parliament today, I'll be in the frontbench of the NDC. In this respect, if there is any decision to be taken or there are any resources to be distributed, I will be part of the decision-making process and in that case my constituency would not be left out or abandoned," he stated.

He further justified his return by indicating that Parliament needs institutional memory and would take experienced persons like him with enormous wisdom to make it possible.
While making references to some senior members of parliament who have served for several years, he intimated that young members of the house would continue to learn from such brains which he forms part of.

"Giving my experience as a five term parliamentarian, I stand a good chance of improving the quality of debate in parliament when I go back," he added.

According to him, parliament is not a vocation where everyone can enter but a reserved place for persons who are efficient enough to be part of the house.

He added that his credentials and achievements in the constituency and at the national level are enough to inform his decision to seek another term in parliament.

"Nobody says that I was not a very good MP or I did not contribute materially to the development of the Zebilla constituency. What they is that [he] has been there for long. Is that a criteria for removing somebody," he questioned.

He called for an assessment of his track records as the baseline for his quest to get elected and not on the bases of the period he served.