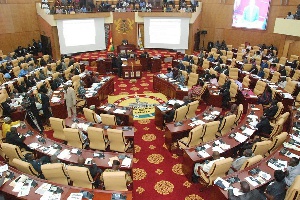 A new committee of the legislature to be known as the Parliamentary Assurances Committee is in the offing.
Still, at the teething stage, the committee is expected to help restore the image of parliament and make members effective in their legislative duties.

The committee, which will operate in a similar fashion as the Government Assurances Committee, will keep track of promises made by lawmakers and the various committees and ensure their implementation.

The Speaker of Parliament, Prof. Aaron Mike Oquaye has, thus, constituted a working group to explore the possibility of setting up that committee and advice accordingly.

Mr Kwasi Ameyaw Cheremeh, the Majority Chief Whip, said: "The parliament of Ghana under the leadership of the Speaker...is instituting a number of reforms to restore public confidence and enhance the image and dignity of parliament.
"Currently, you may be aware that parliament is reviewing its Standing Orders and strategic plans to meet the challenges of the changing times and also to perform these cardinal functions more effectively.

"As part of the reforms, there is also the need for self-regulatory mechanisms to ensure that parliament does things in the right way to improve service delivery, accountability, and responsiveness to citizens."

"In this regard, its being proposed that a Parliamentary Assurances Committee be established. To take this forward, a working group has been put in place to solicit views from key stakeholders on how parliament can work more effectively and work towards ensuring that the image and dignity of parliament are protected and maintained."