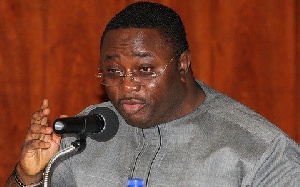 Former Sports minister Elvis Afriyie Ankrah has blamed financiers of the major political parties in the country for the challenges in fighting corruption by governments.
He says the financiers, who are often the beneficiaries of shady contracts, make it difficult for reasonable contracts to be signed by ministers when they are put in office.

Speaking at an event in Accra, the former local government minister said both the ruling New Patriotic Party and the main opposition National Democratic Congress are indebted to these financiers hence the difficulty in resisting them.

"They said we should clean it up and we started cleaning it up, it was so embarrassing and awkward; people who have given you t-shirts and money and all kinds of things and now you are dealing with them. It was almost unconscionable but it had to be done and in the process some of us almost lost our lives because then, there was pressure within the party because you are cutting off the source of funding, for both parties,[and so], they will come after you.
"So we have created a system that legitimises and institutionalises the corruption and at the same time we say we want to deal with the corruption," he said.

Making reference to recent corruption allegations in the Akufo-Addo government, Mr. Afriyie Ankrah challenged Ghanaians to look at the root cause of those cases and how close they are to party financiers.

"Check all the corruption-related cases, from BOST to whatever, check, it is linked to campaign financing. There is always a financier there"