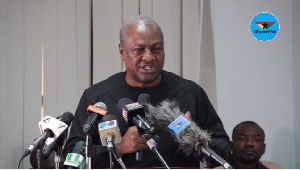 The Ashanti Regional Secretary of the New Patriotic Party (NPP), Sam Pyne has jabbed former President John Mahama for using an Animal Farm analogy to link the ruling government and its appointees.
Addressing NDC supporters in Cape Coast, the former President accused the president of not showing good leadership skills for failing to sack Ayisi-Boateng, High Commissioner to South Africa.

"If you are a party officer, you can say whatever you want, there's no problem. You can say, ooh, all jobs should go to NDC people before it goes to NPP people, that's if you are Allotey Jacobs, you can say that because Government doesn't pay you, tax payers don't pay you, you haven't sworn an oath to anybody. But when you are appointed as a high commissioner and then you swear an oath of allegiance to the Constitution of Ghana, and the Constitution of Ghana says there shall be no discrimination and that you shall do justice to all manner of persons, then you come and say...

Have you read Animal Farm before? It says all animals are equal. That's how they started. When they did the revolution, they said all animals are equal. Then when Napoleon and the PIGS started enjoying started enjoying, they had to justify why they were enjoying so they said, all animals are equal but some are more equal than others...so, we did the 'revolution' and he came to power, now that the 'pigs are enjoying' they say some Ghanaians are more Ghanaian that others..." he said.
This comment was not well welcomed by the ruling party as they felt the former President could have done better than that.

Speaking on Asempa FM's Ekosii Sen on Wednesday, Sam Pyne "If former President John Mahama is not a pathetic character, who else will be? How can you package such a character to be President of Ghana again…,? Mahama's inference meant that all Ghanaians are pigs…Mahama should have written a very tall apology and resign as a Ghanaian and go to stay in the farm of Mr Jones' Animal Farm which he likes very much…," he stated.