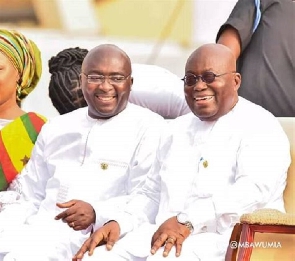 A renowned Islamic Cleric, Sheikh Anyas of Darul Hadith has commended Vice President Dr. Mahamudu Bawumia for his personal commitment to seeking and promoting the development and welfare of the youth in the Zongo communities.
Speaking to a congregation in Kumasi, Sheikh Anyas said President Akufo Addo and Dr. Bawumia deserve commendations and prayers for Allah's blessings, having displayed true spirit of humility and philanthropism towards the needy and the development of Zongos.

The Imam gave a testimony of how Dr. Bawumia's personal involvement ensured that youth from various Zongo communities, especially his (Imam's) community in Kumasi got the opportunity for their development in education and other training.

"I had a call informing me that the government of Ghana has secured a scholarship for the youth from the deprived communities across the country, including the Zongo community to go and read medicine in Cuba and be trained to be medical doctors," said Sheikh Anyars.

"Darul Hadith got the opportunity to nominate one student for this all-paid for program and I nominated one of our young boys. I am told they will leave this month and this means that here at Darul Hadith, we are also going to produce a medical doctor," the Imam told the congregation.

The Imam added that apart from the Cuba opportunity the NPP government has offered the deprived and Zongo communities, other qualified youth from the community in Kumasi have had the opportunity of embarking on training and getting employment under NABCO, teachers, nurses, afforestation and the security services
"At this moment, I want to pray for Nana Akufo Addo and Dr. Mahamudu Bawumia for everything they have been doing for us. Whatever they have done, may the Almighty Allah bless and also grant them their wishes from Allah."

"The way they have been a blessing to us and these children, may Allah continue to reward him."

"What the President and Vice President have done; giving our youth opportunities in education and training is enough for us because that is what we need. We don't have to be given vehicles before we express appreciation. This is progressive opportunities to our children is enough for us."

"Only God knows how many people this student who is going to read medicine in Cuba will save when he returns. So may Allah bless Nana and Bawumia."

"We will continue to pray for them and wish them well because they personally came here and initiated a relationship with us and have kept the relationship with us so well. Others feel too big to come to us, yet they complain that we have bond so well with President Akufo Addo and Dr. Bawumia."
"Our doors are always open to those who are humble and we will continue to pray for those who seek the welfare of our people."

The lucky student Sheikh Anyars referred to is part of 40 students selected from deprived communities across the country who have been given scholarships to go and study medicine in Cuba.

Dr. Bawumia played a key role in negotiating this deal during his state visit to Cuba last year.

The first batch of 40 students are expected to leave Ghana for Cuba this month to begin their studies.