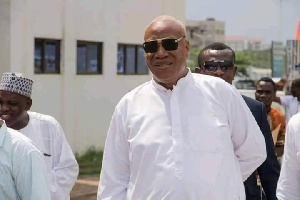 A former National Democratic Congress (NDC) Member of Parliament (MP) for La Dadekotopon, Nii Amasah Namoale, has expressed strong optimism that Professor Joshua Alabi will be Ghana's president come 2020.
Mr Namoale, who has dropped his ambition to lead the NDC and is backing Professor Joshua Alabi, said the former head of the University of Professional Studies will shock his political opponents and emerge as Ghana's best president.

The former legislator stated that Professor Alabi stands tall compared to all other candidates who have expressed their interest in contesting.

He said, ''Professor Joshua Alabi is the next president of Ghana and I pray God grants him the wisdom to succeed in whatever he does.'' Professor Alabi is an accomplished academic, astute politician, a visionary and transformational leader, with tremendous credit in governance, sports administration and an acclaimed entrepreneur.

Professor Alabi has managed countless number of international and national projects successfully and is the founder and Board Chair of the Consumer Advocacy Center (CAC), Ghana; a Full Member of the Consumers International, (CI) and a member of the Federation of Consumer Organization in 115 countries.


In academia, Professor Alabi rose through the ranks as lecturer in 1987 to founding Head of the Marketing Department of the University of Professional Studies, Accra in 1989, to the Dean of Management Faculty in 2003 to 2005, to the Pro-Rector from 2005 to 2008, became Rector from 2008 to 2012 and Vice-Chancellor in 2012.