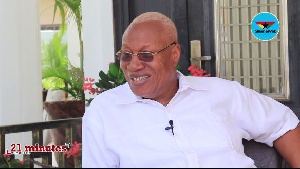 A former Vice Chancellor of University of Professional Studies and a Presidential Hopeful of the National Democratic Congress (NDC), Professor Joshua Alabi is set to take his campaign to the Northern Region Thursday August 23, 2018.
This is his first campaign tour to the Region, after submitting his letter of intent to the party Headquarters in Accra. He will be meeting, Regional and Constituency executives as well as other delegates of the Party in Tamale, Yendi, Sabooba, Zabzugu Tatale, Gushegu, Karaga, Nanton and Savulugu.

Other constituencies to be visited during the 7 days tour, include Bunkrugu, Yonyoo, Nalerigu, Walewale, Kumprugu, Sagnarigu and Mion.

Information gathered from the camp of Prof Alabi indicates that he will stop over at Kajebi, Nkwanta and Kpasa in the northern sector of the Volta Region, before entering the Northern Region proper through Wulensi and Bimbilla.

Sources say the tour is a form of homecoming for Prof Joshua Alabi who grew up in Tamale, the Northern Regional capital and who happens to be a former Minister for the region.

The campaign coordinator, Lawyer Victor Kwadjoga Adawudu told newsmen that "It is a homecoming for Prof Alabi. In addition to the town hall meetings, Prof is going to meet old friends and colleagues who are now fathers of communities, opinion leaders and party activists. We are just going to bond and await the showdown."
The last time Prof Joshua Alabi embarked on a tour to the Volta Region, he ended up with endorsements from some leading members of the party including some members of the Council of Elders.

Ambassador Victor Gbeho and Hon Ken Dzirasah, surprised the nation when they independently announced to the media that Joshua Alabi is the best person to win the next election for the NDC.

The longest serving Deputy Speaker of Parliament, Hon Dzirasah, in his analysis described Professor Joshua Alabi as the only hope for the NDC to return to government.

Characteristically of team Alabi, it is expected that some opinion leaders and elders of the party will endorse the candidacy of the Prof Alabi and pledge to work towards his ambition to becoming the flag bearer of the NDC.