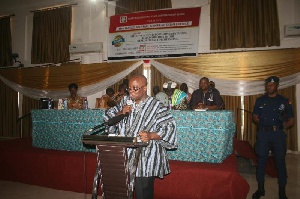 Mr Daniel Yaw Domelevo, the Auditor General, has appealed to the Health Accounting Staff Association of Ghana (HASAG) to support government to win the fight against corruption and improve health delivery.
He said it was the duty of the auditors and accountants to help protect the public purse and other resources in the public sector to enhance transparency and accountability.

Mr Domelevo made the appeal in Tamale at the weekend when he addressed members of the HASAG at their 11th Annual General Conference in Tamale to discuss funding challenges in the health sector.

It was on the theme: "Effective Audit Report Implementation, Responsibilities of the Health Finance Professional".

The conference was also to address some of the challenges affecting the Association and to take stock of the past year.

Dr Anthony Nsiah-Asare, the Director General of the Ghana Health Service, in a speech read on his behalf, advised HASAG to pay attention to the weak budgetary control systems, which has contributed to the poor management of funds in the health sector.


Mr Sidik Mohammed Nuri Laskaya, the HASAG National President, called on the Health Minister and the Director General of the Ghana Health Service to address challenges of delays in promotions.

He said the benefits accrued to members after retirement through SSNIT was not encouraging.