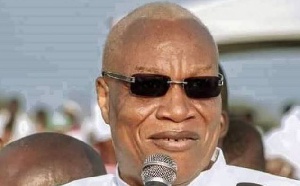 Presidential hopeful of the main opposition National Democratic Congress (NDC), Professor Joshua Alabi, has charged government to ensure that politicians who pocket state funds are sanctioned.
According to the former Vice Chancellor of the University of Professional Studies (UPSA), it is wrong for people to tag all politicians criminals because of a few corrupt ones, adding that anyone found culpable must be sanctioned.

"It is not every politician who is a criminal… some may be, some may not be, so, we cannot tag everyone that: 'you are criminals'; it is not good for this country. Those who have stolen money or done something wrong, they should be disciplined and that is why I am happy that Akufo-Addo has set up the Special Prosecutor Office and appointed a very difficult man; it is very good," he told Adom FM's Captain Smart in an interview on Monday, 16 April 2018.
He emphasised that government needs to take the corruption fight to another level by establishing an "Accountability Court".

"When reports go to the Attorney General's Department, it goes to parliament, when they are done, it should go straight to that place (Accountability Court) to fast-track [implementation of the report] and when we do that we would be cleaning the system," he explained, stressing that "it is important to deal with corruption".