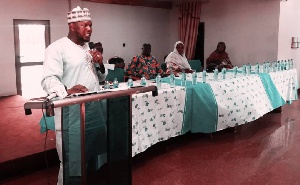 Mon, 8 Oct 2018 Source: Ing Nurudeen
An educationist, Mr. Bashiru Shehu, has expressed his dissatisfaction on the cliche majority of Ghanaians have that, in ensuring quality and effective educational system, it is solely the duty of the government.
According to him, it is the combined duty of all stakeholders to engage usefully, and ensure the Ghanaian educational system becomes successful.

"It is not only the duty of the government to ensure quality education. Everybody must play their part. " he said

Mr. Bashiru was speaking at The Muslim Executive Foundation's annual seminar which was under the theme, "The Role of parents in the newly introduced Double Track System in our Secondary Education"

The seminar which recorded a massive turn out saw parents discussed, and shared ideas on the Double Track System, and how they can help their wards derive the best out of it.

Founder of the Muslim Executive Foundation, Dr. Osman Hafiz Bawa Olando, expressed concerns on how some parents within the Zango communities deny their wards from taking part in the double track system because of their political affiliations.

According to him, the Double Track System should not be politicised.
"Politicisation of the program will hinder it success." He said

The double track system which is currently being run by 400 of the estimated 670 Senior High School in the country was introduced by the government to ease congestion in public schools.

The system took off on September 11, 2018, with the track green students enrolling for the 2018/2019 academic year under the second phase of the Free SHS concept.

The track gold students, on the other hand, are to get enrolled on November 8, 2018. The systems divide the entire student body and staff into two different tracks.

So while one track is in school, the other is on vacation.
Source: Ing Nurudeen