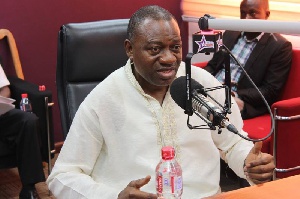 The National Democratic Congress (NDC) legislator for Wa Central, Dr. Rashid Pelpuo says former President Rawlings' observation about the happenings in the party which he posited in the June 4th celebration speech is food for thought for members of the party.
Dr. Rashid Pelpuo said the founder's statement comes at a time the party is examining what accounted for its defeat in the 2016 General Election.

"I believe that what he has done has given us enough products for us to go home, sit back and reflect or examine what happened alongside the Kwesi Botchwey report," he said.

The founder of the NDC, Jerry John Rawlings, on the 37th Anniversary of June 4 Uprising at Wa in the Upper West Region said Ghanaians booted the NDC out of office because of sickening greed, selfishness and corruption.

According to Mr. Rawlings, such practices were contrary to the values upheld by the NDC, describing them as a "betrayal of the values of June 4," namely; probity, transparency and accountability.
Commenting on this issue on the Gold Power Drive with Samuel Eshun Monday, Dr. Rashid Pelpuo, who was a former Minister of State in the erstwhile Mahama administration, said the party will ponder on the statement of the former President.

"I hope my party we will work together to make sure we think deep into the issues that gave us that picture to see whether we've actually left those kinds of principles and allow colleagues to see us as corrupt, greedy etc," he noted.

He added that: "I believe very strongly that those who love the party and making statements about the party will not be making statement to risk the party but they will be making statement with the impression and desire to build it and raised it from the values of destruction and failure as we currently find ourselves."