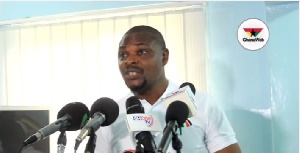 Action Movement, a group aligned to the National Democratic Congress has challenged Alhaji Bature Iddrissu to provide evidence to back his claim that former President J. J. Rawlings received $5 million from former Nigerian leader General Sani Abacha.
Alhaji Bature's comment on both radio and TV was in response to Rawlings' accusation that President John Mahama's government was corrupt.

Even though Rawlings admitted receiving $2 million which, he claimed, was used for "nationalistic purposes", Alhaji Bature said the amount was $5 million.

Alhaji Bature claimed that the amount was the cause of the rift between he (Rawlings) and the former National Chairman of the party Dr Obed Asamoah leading to the latter's breaking away from the Democratic Freedom Party (DFP).

He wondered why Rawlings is lying when he confessed to receiving $5 million from the former Nigerian dictator to him personally.
The spokesperson for Action Movement, Kodza Hamenya Keglo, speaking at a press conference in Accra said "the fallacy that Rawlings told Alhaji Bature that he received $5 million from Abacha must be discarded because we have it on record that the only time Rawlings met Bature was when he came begging for school fees for his children. Bature is a palpable liar and a man full of evil activities".

The group alleged that Mr. Bature is on the payroll of the former Mahama administration and he is been used to cause disaffection for the founder.

The group also noted that Alhaji Bature's actions and comments are bringing more division to the already divided party hence he should desist from it and apologise to the former president.