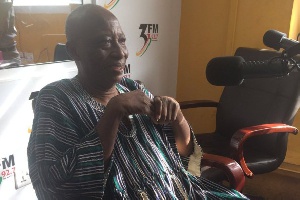 Spokesperson for the erstwhile Armed Forces Revolutionary Council (AFRC) Major (rtd) Kojo Boakye Gyan has described a former president, Jerry John Rawlings, as a man of his words who only lacks the trait of being smart.
According to Osaahene Boakye Gyan, who was speaking on 3FM's Sunrise on Monday, it is wrong for Jerry Rawlings to mark the anniversary of the June 4 Revolution with celebrations annually.

"If he were smart, there are a lot of things he is doing that he shouldn't be doing. If he is smart and has taken the trouble to understand the import of June 4, he shouldn't be celebrating the way he does it, because people died," Major (rtd) Boakye Gyan said.

Osaahene Boakye Gyan pointed out that the former president ought to be sympathizing over the lives lost during the revolution in 1979.

"There is one thing I know about him, he doesn't lie," he confessed, "[but] he is not that smart…you see, he doesn't lie. People died, so it should at the best be a commemoration, not a celebration. It is wrong to celebrate."

He argued that by celebrating it, the former president is either terribly confused or just deliberately going about the anniversary the way he does yearly.
He expressed his displeasure over the actions of the former president on how he goes about the June 4 anniversary.

He said the retired Flight Lieutenant has personalized the happenings that led to the June 4 Revolution as though he was the only one who played a role in it.

"I do not like the way he does it, he makes people believe that the history of June 4 started with him, and it is going to end with him, but it is not going to happen."

Boakye Gyan, who was one of the people who led the June 4 Revolution, said he has written a book which chronicles events leading to the revolution and happenings after.

Listen to full interview here: