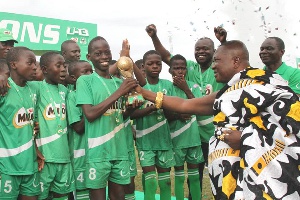 Mon, 25 Jun 2018 Source: EXP Ghana
The Nestlé MILO Under 13 Champions League saw the Volta Regional representatives; Redeem D/A Primary School crowned national champions at the Paa Joe Stadium, Kwame Nkrumah University of Science and Technology, Kumasi after qualifying from the group stages with 12points.
They beat their opponents Sepe Tinpom M/A Primary 2:1 to lift the trophy after both teams put up some dramatic football skills to show their mastery of the sport.

The event which discovered a lot of young talents from the various schools, also pulled some very notable personalities in the football fraternity to the stadium to witness how promising the future of Ghana football looks like.

Among these were the former captain of the Blackstars and Icon of MCL, Stephen Appiah, Coach Francis Oti Akenteng, Technical Director of the Ghana Football Association and Coach Baba Nuhu Mallam, Ghana Youth Development Coach who was with the team throughout all the four zones supporting Stephen Appiah with the Soccer Clinics organized for the children.

The schools that made it to the finals were Amasaman M/A Primary School from Greater Accra, Redeem D/A Primary School representing the Volta region and St. Anthony R/C Primary from the Eastern region.

Other qualified schools included Kaladan E/P Primary School from the Northern region, Kundugud Primary from Upper West and St. Mark's Primary School from Upper East.
The rest are, Sepe Tinpom M/A Primary from Ashanti region, Techimantia Methodist Primary from Brong Ahafo region, Myohaung Forces Primary from Western region, and A & D Memorial Basic School from the Central region.

The finals saw the regional winners battle it out among themselves with Myohaung Forces Primary from Western region and St. Anthony R/C Primary from the Eastern region having to fight for the 3rd place while Redeem D/A Primary School and Sepe Tinpom M/A Primary from Ashanti region defined who finally became the ultimate winner for 2018. At the end of the whole event, Myohaung Forces Primary School took the 3rd place, Sepe Tinpom M/A Primary, 2nd and Redeem D/A came tops.

Kaladan E/P Primary School won the Fairplay award and the Golden glove(Best goalkeeper) went to Alhassan Abdulai from Redeem D/A Primary who conceded only one goal in the whole tournament. The Goal King award went to John Opoku, from Redeem Primary with 4goals, 2 in the final game and the Overall Best Player of the League went to Godwin Oklu, who wore the No. 5 jersey for Redeem D/A Primary.

All participants in this year's event went home with a certificate of participation signed by the MD of Nestle Ghana Ltd and Stephen Appiah, the MCL Icon. They also had branded Jerseys and assorted souvenirs/Nestle products. In addition to these, the 3rd place winner went home with a cash prize of GHS3,000, 2nd place winner had GHS5,000 and the winner received GHS15,000 plus the trophy for the tournament.

The MD of Nestlé Ghana Limited, Mrs. Freda Duplan highlighted that in the spirit of creating shared value, Nestlé will continue to engage, invest and sustainably impact society, in a speech read on her behalf by Mrs. Ama Amoah, Corporate Communications and Public Affairs Manager of Nestlé Ghana Limited.
"Nestlé MILO, the energy food drink of future champions, remains committed to continue taking sports to the doorsteps of school children as a means to helping them lead healthier and happier lifestyles. This is in line with Nestlé's ambition to help 50million children lead healthier lives by 2030 and our purpose of "Enhancing Quality of Life and Contributing to Healthier Future""

Mrs. Duplan also appreciated the Ghana Education Service, Ministries of Education and Sports, Local authorities and all partners for their support and promotion of grassroot development and education.

In another speech read by Okofo Fobin Kan II, Dompoase Hene, Adanse on behalf of the Asantehene Otumfuo Osei Tutu II, he congratulated Nestlé Ghana Limited, Ghana Education Service and all partners for adopting and advancing such a worthy course as the development of children, which was so dear to his heart. Nana further encouraged many more corporate entities and individuals to emulate this kind gesture by Nestlé so together, we all can build out country and its future leaders.

Some personalities present on the day were Ousmane Kamara, Country Controller at Nestlé, Abdullah Khan, National Sales Manager, Gbenga Oladunjoye, Factory Manager, Edward Obeng, Beverage Production Manager, Paul Dowuona, Ashanti Regional Sales Manager, Charles Adjandeh, Supply Chain Manager and Marilyn Ofori, Category Manager for Beverages, all from Nestlé Ghana Limited.

The rest were Minister of Education who was represented by Mrs, Catherine Appiah, Ashanti Regional Minister, represented by Mr. Ntow Ayisi and the Director General of the Ghana Education Service, who was also represented by Alhaji Mohammed Haroon Cambodia, Northen Regional Director of Education.
Source: EXP Ghana