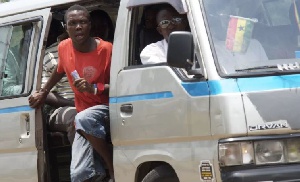 The Ghana Private Road Transport Union (GPRTU) has petitioned the Ministry of Transport to reduce the legal age limit for the driving of commercial vehicles in the country.
The Road Traffic Regulations, 2012, pegs the age limit at 18 years for private cars and 25 years for commercial vehicles.

However, according to the GPRTU, the minimum age requirement of 25 years must be reduced to 21 years to encourage more youth interested in driving Commercial Vehicles to help in job creation drive.

Meanwhile, the Ministry has responded to the September 3, 2019 petition by the GPRTU saying the Ministry will soon embark on stakeholders consultations to review some legal challenges of the Road Traffic Regulations,2012 (LI 2180) including the age limit concerns raised by the Union.

In 2018 for instance, Ghana's subsidiary of Transport Network Company, Uber was compelled to sack some 200 drivers for not attaining the minimum requirement to drive a commercial vehicle. Again, an insurance company denied a Koforidua-based driver insurance benefit after he was involved in an accident on grounds that he had not obtained the legal age to drive a commercial vehicle.
Speaking to Starr News on the Sidelines of the election of Eastern Regional Executives of the GPRTU, the acting General Secretary of the Union, George Ofori David said "the 25 years can be reduced to between 20 or 21 years so that it will afford the youth opportunity to obtain a license to drive. It is not about maturity, the voting age is 18 and if one should learn driving before the 18 and after 18, by 21 the person would have had the experience to drive commercial vehicle since unemployment is a problem in this country the youth are willing to drive a taxi and other vehicles".

The National Chairman of GPRTU, Kwame Kuma said the Union will continue to engage the Transport Ministry to make sure the age requirement is reduced within the shortest possible time adding, the current age barrier is already giving rise to age cheating in the transport sector.

The Incumbent Regional Executives of the GPRTU including, Johnson Kyereh and Kwadjo Fosu were retained.