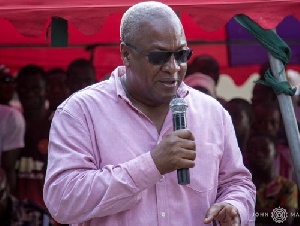 All members of the National Democratic Congress (NDC) must stay united to ensure a victory in the 2020 presidential and parliamentary elections, Former President John Dramani Mahama, has said.
He said, as the main opposition party takes steps to resolve all outstanding issues including constituencies that had their elections postponed, 'I call on the rank and file of the party to stay united and focused on the noble goal of Victory 2020.'

The party held its constituency executive elections on Saturday 23 June 2018 in almost all the constituencies.

Congratulating the party for a successful internal polls, Mr Mahama said : "I congratulate all members of our great party, the NDC, who emerged victorious in the various constituency elections.
"Your victory serves as inspiration to the millions of members and followers of our party. I entreat you to serve with humility, commitment and hardwork to ensure victory in 2020. To all those who were unsuccessful in the elections, your contributions are still very much needed by the party and I salute you for offering yourselves to serve. You are all winners.

"As the Party take steps to resolve all outstanding issues including Constituencies that had their elections postponed, I call on the rank and file of the party to stay united and focused on the noble goal of Victory 2020.

"Let us all forge ahead in unity to win massively in 2020; redeem Ghanaians from the increasing hardships; and ensure prosperity for all. It is #PossibleTogether. Once again, congratulations!"