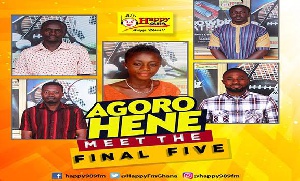 Wed, 24 May 2017 Source: Francis Tawiah
Ghana's number one sports station, Happy FM's search for the Agorohene has hit a crescendo as the five finalists have started slugging it out in earnest to get crowned as the eventual winner.
The five who were chosen after intensive auditioning at the Happy FM Offices in Accra, which was characterised with the display of talents from hundreds of ambitious and passionate young men and women, have displayed expressive skills and verve since starting to undertake their daily assignments and tasks.

The finalists, who are male dominant with Patrick Kwadwo Kwakye Sampong, Perry Baka, Evans K. Ofori, Robert Opoku Kwanin and the only lady being Millicent Akua Boatemaa, a.k.a Lampard, are facing tests. They now face of endurance, intelligence and passion as they compete in various practical challenges in the studios of Happy FM during the competition.

The five finalists will in the next week engage challenges including social media tests, production, presentation, commentary and analysis. Every day, the listeners of Happy FM get the opportunity to choose and vote for their favourite contestant to win the competition. The contestant with the highest number of votes after the competition becomes the winner. Throughout the whole period, the contestant will be mentored and coached by radio professionals and experts to showcase their very best.
As part of the challenges, contestants will have the rare opportunity of appearing on The Team Sports Show on e.TV Ghana to test their presentation skills. On the 29th May on the Anopa Bosuo show on Happy FM, the 'AGOROHENE' will be announced.

For more information, visit www.happyghana.com or listen to Happy 98.9 FM.
Source: Francis Tawiah