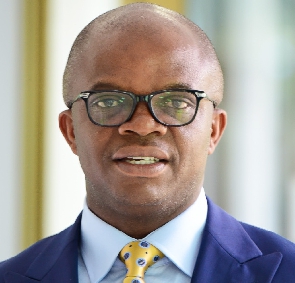 Wed, 27 Nov 2019 Source: New Crusading Guide
The National Democratic Congress (NDC) attempt to soil the persona and reputation of the Chief Executive of the Microfinance and Small Loans Centre (MASCLOC), Stephen Amoah, as a thoughtless corrupt individual has fallen on rocks, as emerging documents are revealing the true picture of what really transpired.
Contrary to the party's vile propaganda that the MASLOC boss handpicked the reputable audit firm, Baffour Awuah and Associates at the cost of GH¢1,114,000, to investigate whether the on-trial former MASLOC CEO, SedinaTamakloe Attionu's administration actually oversaw the expenditure of 2 million cedis, this paper can report that the amount paid to the audit firm was less than one percent of the actuals monies it audited.

New Crusading GUIDE's independent investigations; corroborated by sources within the State's micro and small loans centre revealed that MASLOC's cumulative total loan outstanding alone, as at 31st March, 2017, amounted to GH¢67, 462,819.84.

Add that to the sixty-two million (62,000,000.00) Ghana cedis vehicle issue and other costs and you are hovering in the region of GH¢129,424,819.84, which makes the GH¢1,114,000, being bandied about less than one percent (approximately 0.85%) of the actuals money.

Documents in the position of this paper revealed that on August 31 2017, the Economic and Organized Crime Office (EOCO), then headed by K.K Amoah, engaged Bafour Awuah & Associaes (BAA) as a technical consultant to conduct forensic investigation on EOCO's behalf, for the period 1st January 2009 to 31st March 2017.

BAA was to assist with investigations to enable MASLOC attain effective financial management of its resources and the cost was borne by MASLOC on the direct orders of EOCO.
Chiefly amongst the audits firms rules of engagement, which covered MASLOC's head office and all the then ten regional offices in the country, this paper gathered, was to: ascertain the extent to which losses, if any had been incurred by MASLOC as a result of failure to comply with regulations.

Where losses, if any were identified, the EOCO directive added, the process leading to the loss and the level of involvement of the personnel should be stated, "Ensure that all resources were adequately and properly accounted for, and report on any contracts or payments in excess of US$50,000 (or cedi equivalent) per any transaction during the period under review."

Bafour Awuah & Associaes was to also ensure that payments to any one individual, organization and/or related organizations, for the same purpose, were to be considered as one transaction.

More so, this paper gathered that payment of the monies were made in three trances and not two, as the naysayers would have Ghanaians believe.

Meanwhile, when this paper contacted the MASCLOC boss to ascertain the veracity or otherwise of the information, he said: "Listen my brother, I cannot be corrupt or corrupted. Yes, I am human and I could make genuine mistakes in life but it won't be to pay one million to chase two million, why would I do that? The NDC should do their homework well because this has failed."
Source: New Crusading Guide