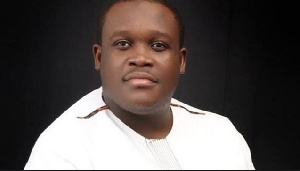 The Member of Parliament (MP) for Ningo Prampram, Sam George, has described as weak the argument by the National Democratic Congress (NDC) presidential candidate hopeful, Dr. Ekow Spio Garbrah, that party members must elect a candidate who is eligible to serve two terms.
Dr. Spio-Gabrah speaking on Morning Starr Thursday urged members of the main opposition party to be particular about the choice they make ahead of the 2020 polls.

His comment comes as former president John Mahama, who per Ghana's constitution, has just one presidential term to serve, appears to be eyeing the party's presidential ticket again.

"The NDC needs a presidential candidate who can lead the party to rule two terms in office," he told Francis Abban host of Morning Starr.

However, Sam George argues it will be myopic to limit the choice of who leads the party in 2020 to the number of terms he can serve.

"It is weak," he stated on Morning Starr Friday "to make an argument that if constitutionally, you have the laxity to do two terms that gives you an urge. Life is not guaranteed. In fact, the constitution doesn't guarantee anybody two terms. President Mahama is an example of that."


"So, I believe that Dr. Ekow Spio-Gabrah may need to re-read our constitution again, that portion of the constitution to appreciate the fact that becoming a flagbearer, leading the party and then even winning the election does not automatically guarantee two terms," he added.

According to him, whoever wins the 2020 elections is guaranteed only four years reiterating that: "Election, leadership is not about probability. It is about certainty. The winner of the 2020 elections is guaranteed four years—one term not two terms."

"Let's not build a mirage, let's not build a fantasy in our minds. Every election will be fought for and won on its own merit. So, anybody saying that I am going into 2020 because I have the possibility of being president in 2028, first and foremost has missed a plot…a plot and what you are going to be selling to Ghanaians is a four-year term. You are not going to be selling eight-year policy document to them. The manifesto is not going to run for eight years," he further pointed out.