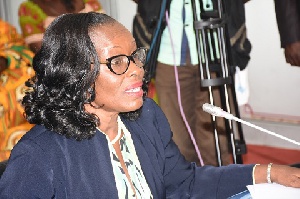 Dr Stephen Kwabena Opuni, the former Chief Executive Officer of Ghana Cocoa Board, (COCOBOD) and Siedu Agongo would be tried by nine state attorneys including the Attorney General Ms Gloria Afua Akuffo.
Dr Opuni and Mr Agongo, the Managing Director of Agricult have pleaded not guilty to all 27 charges.

The two are before Justice C. J Honyenuga, a Court of Appeal judge sitting with additional responsibility as a High Court Judge for willfully causing financial loss to the state.

DEFENCE TEAM

Dr Opuni is being represented by Lawyer Samuel Cudjoe and Johnson Normesinu. While Agongo, MD for Agricult appeared for himself and Agricult with a five-member legal team.

They are Benson Nutsukpi, who's also the President of the Ghana Bar Association, Nutifafa Nutsukpi, Joel Annor Afari, Emmanuel Kumadey and Jemima Dei.
STATE PARADES 9 LEGAL BRAINS

The State through the Attorney Generals (AG) Department has fielded its strongest legal brains at the Attorney Generals Department, including the AG herself, Ms Gloria Afua Akuffo.

The rest are Godfred Yeboah-Dame, deputy AG, Joseph Dindion Kpemba, Deputy AG, Evelyn Keelson, Chief State Attorney, Frances Mollen Ansah, Principal State Attorney, Stella Ohene Appiah, Snr state attorney, Sefakor Batse, Snr State Attorney, Richard Gyembiby, Senior State Attorney and Pinaman Ansah, Snr State Attoney.

The facts of the case is currentling being read in court by the AG, Gloria Akuffo.