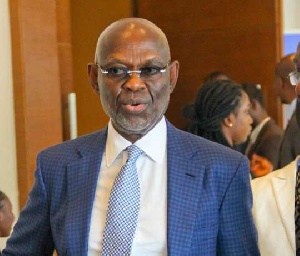 The National Democratic Congress (NDC) has cautioned its members against washing the party's dirty linen in the open after a glum election loss in 2016.
The last few days have seen disgruntled NDC functionaries including the immediate past national chairman of the party, Dr. Kwabena Adjei, blaming the "inexperienced young handlers" of John Mahama for the party's miserable defeat.

"His [Mahama] handlers misled him. They were inexperienced. I will say this anywhere without fear or favour. We are all to blame," Dr. Adjei told Bola Ray on Starr Chat, Wednesday.

According to him, the younger handlers of Mahama prevented the older ones with "a wealth of experience" from getting closer to the President hence his miserable defeat.

A former national organiser of the NDC Yaw Boateng Gyan has also shifted the blame on the party's executives, saying they were "arrogant and disrespected the electorate."

"The other issue has to do with the way and manner our people were talking to the electorate…very arrogant and disrespectful, how would we have appealed to the voters.
"Some of us couldn't talk because they said we have been voted out of the executive position of the party and so we shouldn't talk…a lot of things went wrong," Boateng Gyan told the host of Abusua Nkommo, Kwame Adinkrah on Abusua FM.

However, the Election Review Committee (ERC) of the NDC, which has been tasked to unravel the reasons behind the party's defeat, has expressed reservations and "regret that a number of party functionaries and leading party members have lately taken to the media houses to air their views on party members."

"The Committee would like to urge all party members to resist the temptation to engage in recriminations and finger pointing, so as not to undermine the integrity of the Committee's final report and recommendations, or sour the atmosphere for the conduct of the Committee's work," the chairman of the committee Prof. Kwesi Botchwey said in a statement.

He added: "The Committee's doors are open and we urge all party members who have issues to raise or concerns to express to direct them to the Committee to help the search for solutions to the challenge confronting the party."