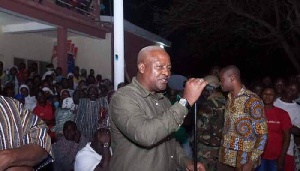 Former President John Dramani Mahama has urged party members not to cry over spilt milk, indicating that no matter how much they cry, the milk would not come back into the cup.
"It's not about how many times you fall but how you are able to pick yourself up after each fall and yes, we fell but NDC is rising again," the former president posited.

Mr John Mahama entreated all members of the party to forge ahead, stop counting their losses in the previous elections and throw their weight behind the party executives as they institute measures and strategies to bring back the party in the next general election.

Mr Mahama, who was addressing party members in his home constituency of Bole in the Northern Region, admonished all members of the party across the country to participate in the ongoing membership registration process to have their names duly registered.

"The membership registration has become necessary because the old party register is outdated," he explained.

He revealed that after the registration of members in the various constituencies and branches, branch elections would be held to elect executives to steer the affairs of the party at those levels.

Former President John Dramani Mahama stated that the opposition National Democratic Congress (NDC) would rise again in 2020.
"NDC is rising again and if all of us do the work that we are supposed to do and help in the reorganization process of the party, I can assure you that by the grace of God, NDC will come back in 2020," he said.

According to the former president, the NDC is a strong party, even though it did not do well in the last elections.

The former president stressed that the strength of the party is dependent on the various branches, adding that a party is strong when its branches are strong.

It is, however, not clear if the former president is using the opportunity to campaign ahead of the 2020 polls.

He, therefore, called on all party members, supporters and sympathizers to rally behind the national executives and party hierarchy to advance plans and strategies.

"With the help and support of everybody on board, the second coming of the NDC will be a reality," he underscored.