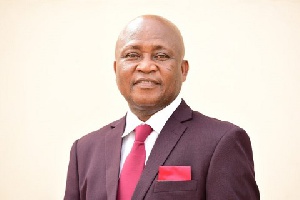 The Association of Ghana Industries (AGI) has entreated the Ghana Revenue Authority (GRA) to remove compliance officers from the factories of its members and engage in further dialogue in relation to the tax stamp policy.
"All these GRA task force must move quickly from all these companies so that businesses continue while we are in talks with the government so that the right thing will be done," AGI President Dr Yaw Adu-Gyamfi said at a press conference on Wednesday, 3 October 2018.

According to him, the association has noted with concern, restrictions on the operations of its beverage manufacturers by the GRA without recourse to the tax stamp implementation arrangements.

Dr Adu-Gyemfi reaffirmed that AGI is not against the tax stamp policy, adding that the beverage companies are fully compliant with the law.

He however appealed to government not to shut its doors for further dialogue but rather provide dispensation for companies to continue to do business.
The Ghana Revenue Authority (GRA) confiscated some trucks fully loaded with products of the Coca-Cola Bottling Company of Ghana Limited at Spintex, Accra.

This occurred on the morning of Tuesday, 2 October 2018, as the GRA embarked on the second phase of its nationwide compliance enforcement of the excise tax stamp law in accordance with the Tax Stamp Act, 2013, Act 873.

A team of compliance officers from the GRA, who visited some selected factories with journalists, discovered that the products, which were to be conveyed to retail shops, had no tax stamps.

The trucks were, thus, grounded and stopped from doing their distribution rounds.