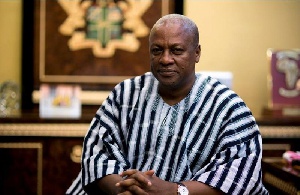 Former President John Mahama says he is counting on divine intervention to help him decide on his future regarding the leadership of the National Democratic Congress going into the 2020 elections.
Mr. Mahama at a National Executive meeting of the party on Wednesday gave the strongest indication yet, of a possible come back, in the 2020 polls.

He charged party leaders at the meeting to channel their energy towards fixing the challenges that saw the NDC lose miserably at the 2016 polls to the New Patriotic Party's Nana Akufo-Addo.

After expressing his willingness to support whoever emerges as Presidential Candidate of the party going into 2020, he was quick, however, to add he expects a similar thing from others if he becomes the flagbearer.

"Whether I will contest or not is in the hands of God. Let's concentrate on strengthening the party and making it battle ready for whoever we choose to lead us in 2020.

"An excellent Jockey can fail if the horse is not healthy…..On my part, I will support whoever leads us into 2020 as much as I will expect if I lead you into 2020".
Many leading members of the NDC have in recent times been diagnosing the causes of the party's defeat. While some blame the former President directly, others have taken on national executives of the party and handlers of the former President for contributing to the defeat.

Speaking at the meeting, Mahama admonished the party to put the defeat behind them and restructure for the future.

He reminded all present "the 2016 election is over, but as a party we live to fight another day," adding that "God and Ghanaians will vindicate the NDC in 2020".

He tasked party executives and members of parliament present to "go back to their constituencies to help reorganize the party, right from the branches- proper branch reorganization with genuine and free & fair elections".