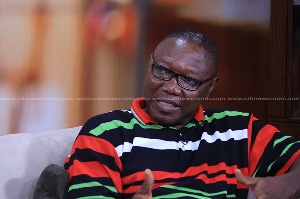 National Democratic Congress (NDC) Member of Parliament for Builsa South, Dr. Clement Apaak, has challenged Professor Adei to file complaints to the various bodies in Ghana if he believes former President Mahama and appointees were corrupt or engaged in corrupt deals.
Dr. Apaak says the former rector of the Ghana Institute of Management and Public Administration (GIMPA), should desist from tagging Mr. Mahama as corrupt and rather send any evidence in his possession to either the Economic and Organised Crime Office (EOCO) and it's related bodies for him to be investigated.

Dr. Apaak was reacting to recent comments by Prof. Adei at the 2019 New Year's school in a speech he delivered.

Prof. Adei described Mr Mahama's government as the most corrupt in Ghana's history.

But Dr. Apaak is not happy by these comments and reacted saying: "Prof. Adei seems oblivious to current alleged acts of corruption. He has no problem with the appointment of 111 Ministers, 998 Presidential Staffers, shiploads of CEOS and heads of Agencies. But why should Prof. Adei care about rot under the NPP, he is no longer just a citizen but a Government appointee, chairman of our National Development Planning Commission (NDPC)."

Read Below the full post:

Folks – Please tell Prof. Adei that if he has any evidence pointing to acts of corruption and those who engaged in such acts when the previous government was in office, he should file complaints with the BNI, EOCO, CID or better yet the OSP.
Prof. Adei over the years made all kinds of baseless allegations against JM and his appointees when our party was in power. I had assumed that having been rewarded by NADAA for maligning JM and his government, he would have stopped his concocted allegations, but no.

Well, it is worth pointing out that Prof. Adei is now part of an NPP government in which alleged corrupt appointees are cleared by the President himself. The government he is a part of has appointed unprecedented numbers of family, friends etc to various positions in government and the public sector, the most nepotistic government in the history of Ghana.

Yet, it was Prof. who accused then President JM of appointing one of every four persons he appointed from his region, his background, totally untrue but a claim he said was based on research. I challenged him to share the research findings with all of us by putting it out in the public domain. Guess what? He never did. It didn't exist, a phantom, it was not true, he had no research to back his claims that one of every four JM appointees was from his background. It couldn't be till the end of time, JM never did such.

Prof. Adei seems oblivious to current alleged acts of corruption. He has no problem with the appointment of 111 Ministers, 998 Presidential Staffers, shiploads of CEOS and heads of Agencies. But why should Prof. Adei care about rot under the NPP, he is no longer just a citizen but a Government appointee, chairman of our National Development Planning Commission (NDPC).

Dr. Apaak

M.P, Builsa South