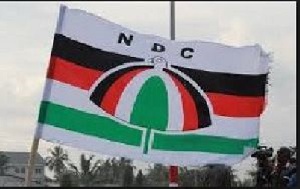 A member of the National Executive Committee (NEC) of the opposition National Democratic Congress (NDC), Kofi Kukubor, has urged the party's Council of elders to take "swift action" against the ten regional Chairmen who have endorsed the candidature of John Mahama for election 2020.
All 10 Regional Chairmen of the NDC, on Thursday, issued a collectively signed statement encouraging Former President John Dramani Mahama, to contest in the 2020 elections.

In a statement however, Mr Kukubor said: "I strongly urge and plead that the members of the Council of Elders meet immediately to take swift action on this gross indiscipline of Party Chairmen if they want to see this great party survive into the far future".

Below is the statement from Mr. Kukobor:

The Indiscipline of 10 Regional Chairmen

Every Regional Chairman is a member of the National Executive Committee, NEC. NEC has decided and instructed that nobody especially in line with the constitution should openly declare or endorse any Presidential candidate. NEC further subscribed to the programmes outlined towards the reorganization of which the Secretariat is in the process of releasing a press to that effect.
Secondly, the Council of Elders in line with the recommended implementation programmes, announced Mr. Kwame Peprah as the head of the Monitoring group of the registration of party members.

Before the secratariat could release a press, Regional Chairmen who are also members of NEC, the very decision making body that they belong to, went on air to undermine the very authority they expect members to submit to, disrespecting the office of the Chairman and Leader of the Party, and attempting to derail the work of the Council of Elders.

If money is not the motivation, let these Regional Chairmen come to explain this indiscipline attitude.

I strongly urge and plead that the members of the Council of Elders meet immediately to take swift action on this gross indiscipline of Party Chairmen if they want to see this great party survive into the far future.

Shalom
Kofi Kukubor

NEC Member