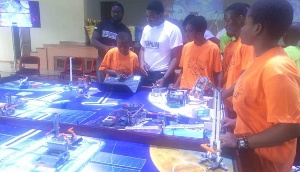 SOS Tamale from the Tamale Metropolis in the Northern Region have been adjudged the national robotics champions for 2018 after a fierce contest with other top basic and second cycle institutions, MyNewsGh.com can report.
The final competition which was held at SOS in Tema in the Greater Accra Region involved 10 teams from Basic and second cycle schools with SOS Tamale being the only team from the North.

Made up of 11 pupils from class 4 to JHS 2 the youngest team ever in the competition, they won two trophies [Best Robotics Project and Overall Championship Trophy] in their second attempt after placing 4th during the 2017 edition.

It is gathered that some competing schools showed up with expensive and sophisticated robotic components but their robots could not carry out the tasks that the Tamale SOS kids did with less sophisticated tools scoring 13 out of the total 18 missions on project design, core values and robotics.

The annual competition is organized by the Ghana Robotics Academy Foundation (GRAF) for students in Senior High Schools and Colleges aimed at motivating and inspiring the next generation of Ghanaians' interest and participation in science and technology.
The decision to put together the competition stems from how Science and Robotics education has become indispensable in the world currently.

Dr. Yaw Okraku-Yirenkyi, a founding member of the Ghana Robotics Academy Foundation and the country representative for World Robot Olympiad (WRO) and ROBOFEST World Championships indicated that "this competition offers a lot of opportunities for participants to employ critical thinking, coupled with scientific principles in an attempt to solve problems".

The competition has two (2) challenges namely; The Autonomous Rescue Challenge (ARC) and the Multi-Grain Colour Sorter Challenge (MGCS). The Autonomous Rescue Challenge competition mirrors real life-threatening situation where "victims or valuable items" are situated in a mine tunnel. With the clock ticking, each team's robot competes by demonstrating they have the best robot design and programming skills to rake in the points in the shortest possible time. The Multi-Grain Colour Sorter Challenge targets Ghana's Agricultural sector by inviting young minds to build a robot to sort a container full of a unique mix of Ghanaian grains such as maize, kidney beans, cocoa beans etc.