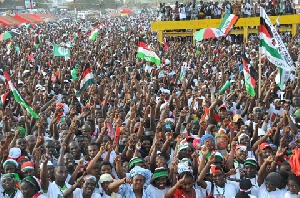 The Unity Walk campaign for the opposition National Democratic Congress will be held in the Western Region, organisers have confirmed.
The walk has been scheduled to take place this Saturday, November 11, at Tarwa, the capital of Tarkwa-Nsuaem Municipal Assembly under the theme: "Mobilisation of the grassroot, a shared responsibility."

The campaign forms part of the NDC's strategies toward reorganizing its support base and re-energise party faithful as it plans to recapture power in the next general elections to be held in 2020 after suffering a humiliating defeat in the general elections held on December 7, 2016 at the hands of the opposition New Patriotic Party (NPP).

At the recent edition held in Cape Coast Sunday, former President John Mahama said a number of reforms being carried out by the NDC are part of initiatives to implement recommendations made by the Prof Kwesi Botchwey Committee.

The former President also indicated the recommendations are already being instituted.
According to Organiser of the Unity Campaign project, Kojo Bonsu, also a former Chief Executive of Kumasi Metropolitan Assembly, the walk in Tarkwa will commence from 6am from the Tamso-Nsuta Junction Station through Tarkwa/Aboso, Market-Circle, Railway Quarters, Cyanide and finally end at the Tarkwa Community Centre where party leaders will interact with supporters.

It is the first time the campaign is being organised outside a regional capital as the previous ones were held in Tamale, Accra and Cape Coast in the Northern, Greater Accra and Central Regions respectively