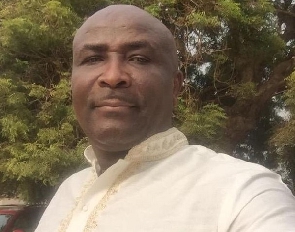 Former Ghana Premier League referee Thomas Richard Atiffu is leading the race to be named as Ghana FA's Referees Manager, AshesGyamera.com understands.
The role became vacant following the demise of former Fifa referee L.O Laryea and four candidates were interviewed last month in a bid to select one to fill the position.

Attifu will have to beat competitions from Ghana Referees' Committee member Christine Dviga, Caf's instructor Alex Kortey and retired Fifa referee Christian Atsatsa for the seat.

Attifu has quietly built a solid reputation for himself around the country even after officially retiring from officiating.

He is already a 'fan favourite' who would be very familiar with the philosophy and inner-workings of Ghana FA since he has already long been considered a front-runner to replace Laryea even before the latter's death, as he was the one who organised referees across the country and prepared them for the Normalisation Committee tournament after Anas Aremeyaw Anas' exposè brought all football related activities to a halt.

According to Ghana Football Association, the successful applicant will organise courses for Referees, Referee Instructors and Referee Assessors as well as prepare and produce teaching materials in line with the Laws of the Game issued by IFAB.
Also, the referees manager will report regularly on its activities to the Referees Committee either directly or through the

General Secretary and assist the Referees Committee.

Again, the person will implement decisions adopted by the referees Committee and carry out all tasks related to the logistics of refereeing.

The person will carry out all administrative duties of the refereeing department and implement programmes to develop the Referees according to the guidelines approved by

the Referees Committee.
Moreover, the manager will assist with the coordination of the GFA refereeing development program with the Head of the GFA Technical Directorate.

The person will coordinate courses and events of Refereeing, provide management direction and support for all GFA refereeing events, courses, and

competitions. He or she will prepare and manage documents and forms associated with Referee activities as well as create reports (technical and otherwise).

To add to the above, the chosen one will manage logistical requirements, provide assistance in the organization of instructors, assessors, referees to all matches and work with other departments to create videos and other productions related to refereeing.

Lastly, the manager will analyze and report on referee performances, manage referee materials like communication systems, substitution boards, etc and manage and direct functions (including providing performance feedback and follow-up) relating to the following areas:
? Instruction

? Assessment

? Fitness

?Appointments