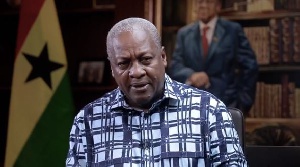 The Founder and Leader of the Glorious Word and Power Ministry International, Rev. Isaac Owusu Bempah, has claimed that Former President John Mahama will lose the 2020 elections.
He further stated that anyone who tells Mahama anything to the contrary is only deceiving him.

Speaking on Neat FM, the man of God added that some pastors, as well as Mahama's friends are giving him false hope because of money.

"I'm very sad Mahama is listening to people and going back to stand for the flagbearership race. He needs to see himself as an ex-President. I really don't know those deceiving him, but those pastors and friends who are calling for his comeback and predicting his win are only doing so because of his money", he said.

Rev. Owusu Bempah's comment follows former President John Mahama's decision to pick his nomination forms to contest the 2020 presidential elections of the National Democratic Congress (NDC).

He officially announced his intention to contest the 2020 polls on Thursday, August 23, 2018, the day on which forms were picked on his behalf.
Several persons including Ghana's former High Commissioner to the United Kingdom, Victor Smith, and the party's National Organizer, Kofi Adams, have argued that Mahama is the party's best hope for victory in 2020.

But Rev Owusu Bempah believes God has already rejected the former president. He said it will be a waste of time on the part of Mahama to contest in 2020 because he won't win.

In all, about 11 NDC stalwarts have allegedly revealed their intent to contest as flagbearer of the party.